Travelling around Cebu Island, in terms of transportation, is nothing short of extraordinary, bizarre moments that tell me one thing about the locals here – their admirable attitude and resourcefulness in "Making Things Possible". That's the beauty of living in a developing country, something I could never experience in the past 25 years of my life in Singapore.
Anyway, what better way to spend a 3-hour bus ride from Oslob to Cebu city than to write about my experience of travelling around this beautiful island, regardless of the fact that I was in a slightly awkward position — half an arm out of the window, one leg propped up, sun rays shining directly in my face and squeezing beside 2 others on the chair.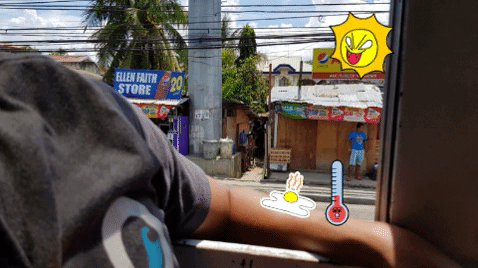 What Transport to Take?
Apart from the familiarity of grab rides that is ubiquitous across Southeast Asia, public transportation in Cebu expands to buses, improvised tricycles, motorcycles, jeepneys, and banca boats. What's amazing isn't just their uniqueness, but the way in which some are used in maximizing every ounce of their capacity.
Within Cebu City, Grab remains the most convenient and reliable way of getting around. I would usually use GrabCar for its fixed rates, and most of the drivers are quite friendly and willing to share with you recommendations for your tour. Another good thing about travelling here is that most Filipinos can speak English as they English-educated since elementary school, making it extremely easy for communication and asking for directions. However, outside of Cebu City (main city), Grab is usually unavailable, hence the usage of other options below to get to your desired destination.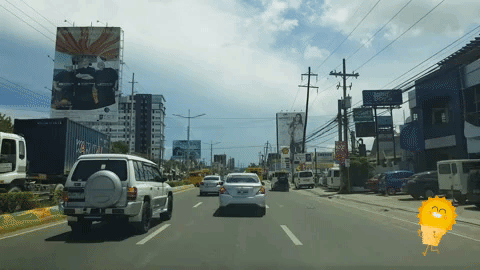 1) Buses (not unorthodox per se, but still different from the buses you're used to)
Buses are the most value-for-money when it comes to long-distance transport from Cebu City to other regions of the island (e.g. Moalboal, Oslob, etc.) If you are heading south of Cebu, you should go to Cebu South Bus Terminal and board the bus there. The main bus services that go around the island include Ceres and Sunray.
(Cost: 30-140 peso/pax)
Fun Facts
• It's a board-first-pay-later system, where the bus conductor will come to you to collect money after everyone is settled down
• Random locals will board the bus regularly to sell their home-made goodies & snacks (e.g. Chicharon – deep-fried pork skin, Empanada – baked pastry).
• Passengers are allowed to board and alight at any location — just notify the bus conductor in advance of your destination and they will stop accordingly
• Some chairs are designed to fit three people even though there is only sufficient space for two to sit comfortably, and that means squeezing with others if the bus is crowded.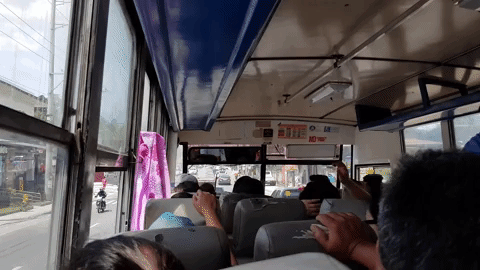 2) Improvised Tricycles (not to be confused with Tuk-Tuks)
In the countryside regions of Cebu, you will notice these unique tricycles that come in various shapes and designs. They are actually motorcycles fitted with extra cabin space to accommodate up to 5-8 people; somewhat a cheaper alternative to getting a car. The drivers would usually double-up as tour guides and bring you to the various attractions in the region. These improvised vehicles are only allowed in places away from the big cities. They are extremely versatile in being able to turn 360° on the spot and manoeuvre across uneven terrains.
(Cost: 20-50 peso/pax)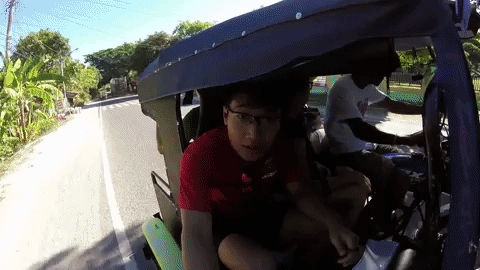 3) Motorcycles
Motorcycles are commonly found on the island, and I was surprised to see a family of 5 squeezing back-to-back on a single motorcycle. Locals are often found camping near attraction sites to offer transport for tourists along small, narrow roads where larger vehicles are not allowed.
(Cost: 50 peso/pax)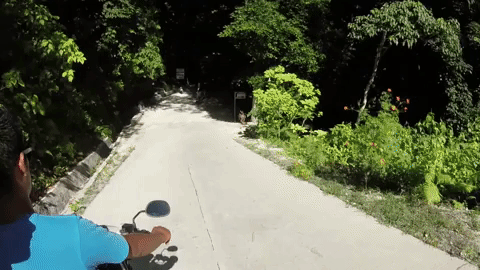 4) Jeepneys
Similar to our public buses in Singapore, these mini-trucks are commonly used to transport passengers around the cities, and occasionally to bring you up the mountain tops (i.e. three of my friends and I booked a jeepney for the ride up to Osmena peak, and we were lucky we even made it to the top because the jeepney kept stalling 😅). They can accommodate about 14-16 people, and you can board and alight anywhere you want, even if the jeepney is waiting behind a traffic junction – p.s. I have not tried it in the main city because based on my observation, they don't seem to follow a particular route (would be interesting to know how it works, so please share with me if you have tried it!)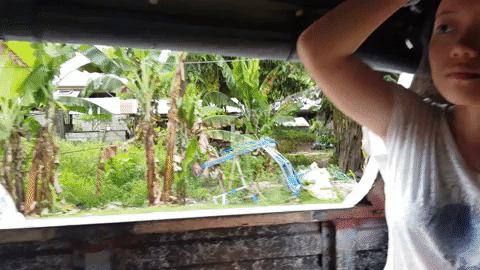 5) Banca Boats
If you are going for an island hopping adventure in the countryside regions, you will get the chance to hop on a banca boat that is streamlined in shape, with wings on each side for balancing it. I would highly recommend bringing earplugs to accompany you on the ride, or be prepared to bear with the loud noise from the motor for at least an hour or so. I would say it's rather similar to a speed boat and the pressure from the wind can be a little uncomfortable, unless you have a pair of sunglasses to protect your eyes.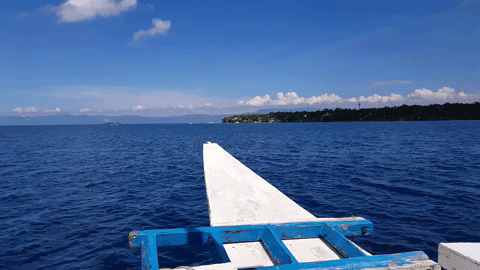 Overall, the thrill of experiencing the authentic and epic transportation in Cebu made the journey more exciting and enjoyable. My personal favourite would be the motorcycle rides, but they are usually meant for family or personal usage rather than a common mode of transport for tourists. If you are planning to go to Cebu, I urge you to try out all six modes of transportation to get a taste of the local culture. In fact, it isn't hard to get on any of them because the locals are literally stationed in every corner, eager to offer you a ride.